Palm Centro is a surprisingly good alternative to blackberry Pearl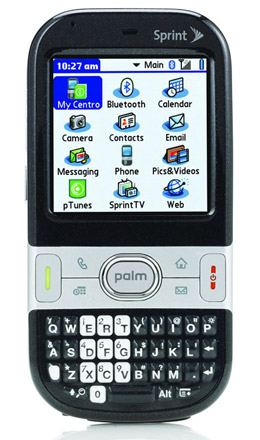 About a month ago I managed to get my hands on a hot new Palm Centro –  the smallest and lightest Palm OS based smartphone to date.
This was a trip down sentimenal lane for me as my Palm treo 650 was my first smartphone and it remained a favourite for nearly two years until it started falling apart from use and abuse… although I still fire it up once in a while for a few games of bejeweled – which was never as fun to play on my iphone or blackberry. 
Here are some things I really like about the Centro: 
Better battery life than previous generations. Even with tones of texting, I can gets a good two days on one charge – far better than the iphone or my blackberry bold. 
Document viewer is awesome – it essentially brings full Office 2007 support to the Centro with ability to view, edit and create native documents. PDF files are also easy to view out of the box
Touch screen is great. They've always had this, and it still rocks.
Full keyboard – I could never get used to the 2 letters per keys on the blackberry Pearl – so it's nice to have what feels like a reasonably sized keyboard for a device that is about the same size. 
Easy to carry – feels more like a phone than a mini-computer
 Micro SD slot – but you have to take the back cover off to get at it 
Simple Email setup
Lots of free apps – but having been spoiled by the Apple App store – finding them just isn't as easy 
Screen is amazingly sharp, much nicer than the treo 
What could be improved:
Back cover is a pain in the butt to put back in place. It didn't slide very easily and it takes way too long compared to my other devices
More applications would be great – and an easy way to find them. My favourite application was maps. I liked to plot where I was going, plotting it against my current location, and trying to beat the estimated time maps returned
Bigger screen. Some of those buttons could be moved to the side of the phone or eliminated making the screen that much bigger… although for those looking for a smaller smartphone, the trade-off may be worth it
No wifi (boo!) or true GPS
Decent camera, but it could use a flash
Still freezes sometime. This is alleviated by plugging it into a computer or doing a soft-reset
Touchscreen needs to be re-calibrated every once in a while
Should you buy one? 
If you prefer a smartphone that looks more like a real phone… the Centro is a great option for you to consider. It's got a great price point ($99) and gives you pretty much all the features you get with the blackberry pearl – minus the instant email and sleeker design.
Having a full keyboard is also refreshing.